About the party of your life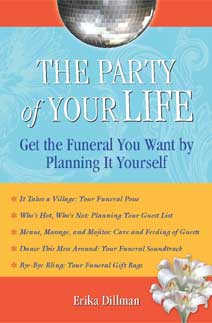 Death is a bummer, but it's the one sure thing in life. The way I see it, you're better off accepting it and going out in style with an event designed to celebrate
you, you, you,
as well as entertain your loved ones. And who better to plan a party all about you than you?
The Party of Your Life
will help you explore the full range of creative, culinary, musical, and theatrical possibilities of a well-planned (i.e. self-planned) life celebration. This book is for anyone who wants to say goodbye in his or her own special way. It's also for control freaks like me, who don't trust their survivors to throw them the funeral to end all funerals.
Order now
Sample funeral party plans
The Party of Your Life
contains more than 20 sample party plans submitted by people of all ages. For example:
Travis is planning a
Gone With the Wind
themed day-long festival. His funeral drink: mint julep. Anne wants bagpipes and a Monty Python song at her service. Shirley wants Andrea Bocelli and Frank Sinatra songs on her funeral soundtrack. Dan requests that his ashes be scattered at the University of Michigan. His funeral menu: Reuben sandwiches and baklava. Thom is plotting a funeral scavenger hunt. Becky would like a wine and cheese reception. Molly prefers a simple memorial gathering at her home. Kord wants a giant TV displaying his favorite photos and film clips, a Mexican buffet, and lots of gin on hand...
What does your goodbye gala look like?
Why plan now?
Testimonials
"In The Party of Your Life, Erika Dillman provides a humorous and sometimes satirical insight into the modern-day funeral industry.
She clearly informs the reader of the arrangements and personal reflections necessary to create a heartfelt and fun-filled final farewell. Her sharp and witty humor reminds us that death is a sure thing in this lifetime, and the more one prepares and shares their wishes, the more we honor our beloved dead in their final farewell."
—Nora Cedarwind Young, certified death midwife, green burial educator and hospice chaplain,
www.thresholdsoflife.org
"As a celebrant I deal with creating meaningful funeral ceremonies for families, but after reading The Party of Your Life I realized how limited my ideas have been.
Erika Dillman really opened up my eyes to a much more expanded way of looking at funerals. She has written a witty and humorous book on a topic that some people find fearful and morbid, and she conveys vital information in an easy-to-digest manner that includes humorous real-world examples."
—Donna Belk, celebrant, home funeral guide, and board member of the National Home Funeral Alliance
www.donnabelk.com